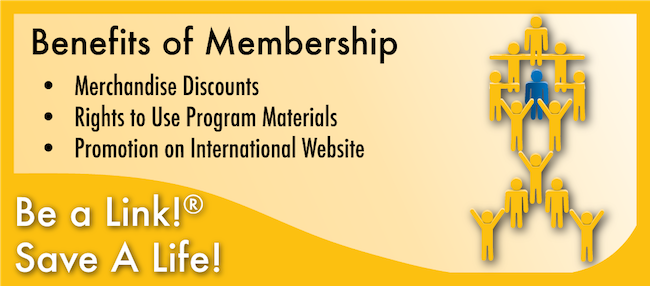 Thank you for your interest in the Yellow Ribbon Suicide Prevention Program®, a worldwide network dedicated to saving lives and being Yellow Ribbon LINKS!
Become a Member/renewal makes a financial contribution, and shows your commitment to suicide prevention. Yellow Ribbon depends on membership support to help us work toward removing the stigma associated with suicide. Together, the work and dedication of our Members, Groups, Sites, Chapters and affiliates to suicide prevention are making a difference, and lives are being saved. We look forward to having you as a part of our network.
Benefits of an Operational (Use) Membership:
Discounts (20%) on YR merchandise and events.

Right to use Yellow Ribbon Program and its materials for education and awareness.

Chapter representative on the International Chapter Council.

Listing (and linked) on the international website
Your membership helps us update records and have better standardization throughout Yellow Ribbon. Your work is important to us so Become a Member today!
If we can be of any assistance, please contact: 303-429-3530 or email ask4help@yellowribbon.org. Your membership certificate will be mailed.
---
Download & Print Your Operational (Use) Membership form.

Fill out your YRI Operational (Use) Membership Form Online
Types of Yellow Ribbon Suicide Prevention Programs 
Chapters, Clubs, & Program Sites
---
YOUTH CLUBS: Single Site Based: i.e. school, church, organization based, w/o tax-exempt status. Generally sponsored by local YR Chapter or Program Site.    
Receives 20% discount on YRI Store. 
Club is required to have 1 primary adult advisor from the school, church, or org. where club is located. Additional Advisors may be either from school, organization, or parent advisor. 
Clubs can raise funds for club activities.
PROGRAM SITES: Single Site-based w/o tax-exempt status. Works with resources within the site, i.e. school, church, etc.  If local chapter is available, it will help bring community resources to the project.  Has support from local chapter and/or YRI. (Program sites often become a chapter.) 
Receives 20% discount on YRI Store. 
Implement the leadership and gatekeeper training programs and Ask 4 Help!® Presentations.
If associated with a YR Chapter, the Chapter is responsible for submitting quarterly report for program site. 
Reports and dues must be current in order to renew membership.
Memberships are non-transferable - renewal must be previously licensed sites only. 
CHAPTERS: Community-based without tax-exempt status. A multiple site unit. Can do fundraising and accept donations, however, unless chapter has a tax-exempt status, donations are not recognized for tax deduction benefits.  **Chapter Renewal Dues are based on operating budget plus 10% fundraising. 
*YRI is an IRS recognized Coordinating 501 c 3 and can assist chapters in obtaining tax-exempt stats through the YR Group #
Receives 20% discount on YRI Store.
Chapters take leadership roles and help build and sustain Program Sites. 
Chapters help ensure replication, standardization, and fidelity of the program. 
Requested chapter name and boundary/territory must be approved by YRI. 
Primary Signer of Application must be at least 18 years old. 
Must have Youth on Chapter Board of Directors or Advisory Boards and they can be co-applicants. 
Local information on brochures, customized Ask 4 Help Cards by a be obtained - contact YRI for more information. 
---
Operational Memberships - ANNUAL Renewal Schedule is based budget for renewal year: 
- Budget: $0 - $49,999   ~ $150 renewal fee + 10% of all funds received by member.
- Budget: $50,000 - $99,999  ~ $250 renewal fee + 10% of all funds received by member.
- Budget: $100,000 - $199,999  ~ $500 renewal fee + 10% of all funds received by member.
- Budget: $200,000 - $499,999  ~ $750 renewal fee + 10% of all funds received by member.