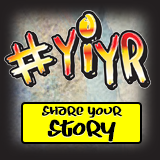 We're excited to tell you all about the #YiYR 2017 Campaign!
Welcome to the #YiYR 3-Step; three easy steps to let your voice, your story be heard to further Suicide Prevention & Awareness! 
---
1.) Pick A Question - 
Why is Suicide Prevention important to me? 
Why Do I want to Prevent Suicide?
What Would I Give for Suicide Prevention in my Community?
Why I Yellow Ribbon
2.) Share Your Answer - 
Right here on the YR Site - Share Your Story!
Download YiYR Printable - write your answer & Share your Picture on social media.
Write a text post on your social media platform(s)
Make a short video and upload/share
3.) Challenge 3 - 
Pick 3 Friends and call them out, challenge them to take the 3-Step! 
---
We can't wait to hear you answers, stories and see who steps up to the 3-Step! Don't forget to use the hashtag #YiYR
Download & print your own #YiYR Sign.