Community Readiness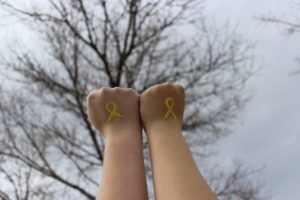 Suicide is Preventable through preparedness and readiness. Natural disasters like Katrina and Man-Made events such as 9/11 and suicide-related incidents at schools have shown the need to be prepared.  (Yellow Ribbon Toolbook 2000).  People in many roles at all levels of community and society can make unique and productive contributions to the prevention of suicide.   (W.H.O. 1996, C.D.C. 1998)
Get involved in Yellow Ribbon's Community Readiness!
Yellow Ribbon has helped many communities develop effective suicide prevention plans in the postvention time – after a suicide death or attempt that has had impact on the community – as well as in the prevention time – before there have been any incidents.   Taking action to make your community safer is important, timing is not a deterrent.
Yellow Ribbon Toolkits, guidelines, workshops and trainings are available.  Yellow Ribbon Program core principles for developing/sustaining successful suicide prevention programs in communities are:
Step 1 – Help communities develop action plans and strategies, readiness plans and services.
Step 2 – Provide suicide prevention training to all members of the community.
To learn more about community readiness for your community and/or about communities that have existing Yellow Ribbon Plans, please contact Dar or Dale Emme, demme@yellowribbon.org.