Overview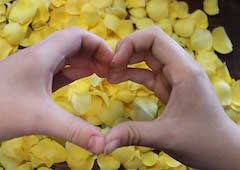 Yellow Ribbon is a National Best Practices Program.
People in many roles at all levels of the community should be trained in community readiness and suicide prevention.
Yellow Ribbon's Core Concept is to provide programs that empower youth/young people, their parents and adults who work with youth (teachers, counselors, first responders, and faith leaders) in learning how to confront the issues of suicide and suicide prevention and to be engaged in suicide prevention effectively at their own comfort level. Having a community with basically trained gatekeepers that can help people in need reach advanced trained gatekeepers/ professional help is key to empowering entire communities.
Goals of Training
To follow the recommended sequence: adults first (school/community leaders, professionals), youth leaders, then all youth to:
Increase public awareness of suicidal risks and warning signs;

Increase awareness of simple intervention techniques;

Increase awareness of community resources and how to access them;

Help reduce the public stigmas associated with youth depression and suicide ŸIncrease help-seeking behaviors.
Trainings Available